Some men of noble stock were made, some glory in the murder-blade, Some praise a Science or an Art, but I like honourable Trade!
– James Elroy Flecker
Welcome
About Us
From humble beginnings in 1943 as a supplier of Gurkha kukris to the British armed forces, Windlass Steelcrafts has come a long way with its products now being available in every part of the world. The company was founded in 1943 by Mr. Ved Prakash Windlass and remains a family-owned business. Windlass currently has over 500 employees and manufacturing facilities in Dehradun (India), and warehouses and offices in Atlanta (USA).
Today, Windlass Steelcrafts works with governments on six continents, providing military supplies such as kukris, combat knives, dress sabers, personal regalia, and army-grade textiles. (Our military swords and sabers are as good as any in the market.) Also, we offer props, clothing, and accessories to studios and popular TV productions and shows. Here, our state-of-the-art manufacturing facilities have helped us partner with artists, design studios, and companies to bring to life iconic pieces, such as the Helmet of Spaniard from Gladiator and Heath Ledger's helmet from A Knight's Tale. Our clothing section offers contemporary and period wear, while we also supply military spec fabric to armies around the world. Further, we are extremely proud of our weapons and armor, which are expertly crafted by a skilled workforce with 60 plus years of experience in the industry. Besides, we have a unique and exclusive service – the Sword Refurbishment facility, where we restore old, seemingly irreparable swords to their original state.
Days, sometimes months of research, study and extreme focus are involved in achieving authenticity in our products. Countless items from our catalog have been modeled directly off of originals housed in museums or private collections, which helps us to ensure that every little detail is incorporated. In short, our products embody style, substance, and value for money.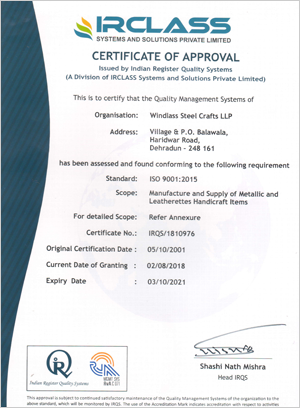 Our Quality Management System has been confirmed and meet the requirements standard of ISO 9001:2015 certifications for the manufacture and supply of metallic and leatherettes handicraft items:
Swords, Khukries, Knives & Bayonets
Body Armours, Helmets, Holsters
Light Category Leather Goods
AssociatedAccessories
Star Wars
Marvel
Harry Potter
Wheel of Time
Game of Thrones
USMC
Robin Hood
Gladiator
Kingdom of Heaven
Sleepy Hollow
Forbidden Planet
Gone With The Wind
300
300 Rise of an Empire
Assassin's Creed
Braveheart
GI Joe
Lord of the Rings
Monty Python and the Holy Grail
Percy Jackson
Serenity
World of Warcraft
The Tudors
Spartacus
Age of Conan
Productions we have supplied:
Buffy the Vampire Slayer TV series
Highlander TV series
The History Channel
The Discovery Channel
HBO's Rome
Batman Begins
Pirates of the Caribbean 2 & 3
V for Vendetta
Sahara
Chronicles of Narnia: Prince Caspian
Spamalot
Shrek the Musical
Quantum of Solace
Showtime's The Tudors
Indiana Jones: Kingdom of the Crystal Skull
Spy Kids 2
H2 (Halloween 2)
Band of Brothers
HBO's True Blood
National Lampoon
Vampire Diaries
Soldier of God